Mrs Murray & Mrs Franklin
Reception Class Page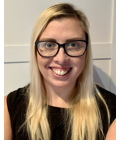 Mrs Murray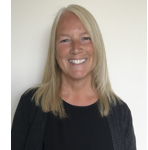 Mrs Franklin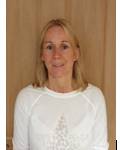 Mrs Ashworth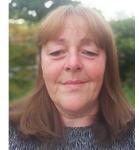 Mrs Norbury
Hello and welcome to Reception Class!
Mrs Murray teaches the Reception children on a Monday, Tuesday and Wednesday and is supported by our teaching assistant Mrs Norbury who also runs our after school club. Mrs Franklin teaches in Reception for the rest of week supported by our other teaching assistant Mrs Ashworth.
This Summer half term our topic is 'Why Do Zebras Have Stripes?' We have had a wonderful start to our new focus  with an animal themed wow day! The children had their face or arm painted with an animal of their choice, the made an animal biscuit, read lots of animal books, made animal masks and played lots of animal games.
During this topic the children will be learning about where in the world different animals come from and the natural habitat and climate that they live in. We will be looking at different animal markings and patterns and studying animals which camouflage themselves. Later in the half term we will be designing and creating a mini beast hotel.  The children will be creating their own oil pastel camouflage patterns and animals. We will be studying the artist Henri Rousseau looking at 'Tiger in a Tropical Storm' and creating our own class collage painting.
English
Our Talk for Writing book for this half term is 'The Three Little Pigs'
We will learn to tell the story using actions and draw story maps. We will then write simple sentences to tell the beginning , middle and end of the story. The children will then plan their own version of the story, choose their favourite and then will write the new version together as a class.
Phonics
We are continuing to review and practise the Phase 3 sounds and words. We are beginning Phase 4 phonics where we are learning how to read and write CVCC, CCVC and CCVCC words. We will then read and write sentences which have these blends in.
Mathematics
In Reception Class we follow White Rose Maths. This term we are focusing on  'To 20 and Beyond' this includes:
Number patterns to 20
Matching picture to numeral
Ten frame fill beyond 20
Estimating
Ten frame subtraction game
Missing numbers
Ordering numerals to 20.
Bingo with numbers to 20.
Adding more
Taking away
Creating Patterns
3D shapes
Please click here to view our Summer Term One Curriculum Overview.
Our PE day is Tuesday and Wednesday so please remember to come to school on these days wearing your PE kit.
Here is our weekly timetable. Click here to download a copy.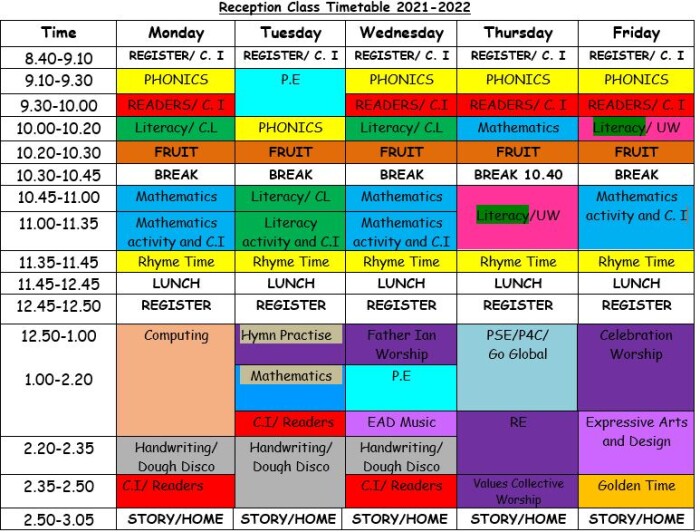 Please click here to view our Spring Term Curriculum Overview.
To find out more about the early years staff  please click here to view the 'Meet the Early Years Team' PowerPoint.
Please click here to view our 'Greet the Teacher' PowerPoint that we shared at our Zoom meeting.
Please click here to view our 'Parent Reading Workshop' PowerPoint which was shared at our reading meeting in February.