Mrs Murray and Mrs Franklin
My name is Mrs Murray and I teach Reception on Monday, Tuesday and Wednesday. I am the EYFS and Key Stage One Lead.
My name is Mrs Franklin and I teach Reception on a Thursday and Friday.  I am on the Ethos Team and I lead the Early Years and Year 1 Collective Worship sessions.
We teach reception children and working alongside us are Miss Quibell and Mrs Ashworth who are our teaching assistants.
We like starting our day with Wake up and Shake Up, which is an opportunity to get some exercise and have some fun!
In the last month we have got to know our new reception children on their two transition afternoons in school and by visiting them in their pre schools. We are looking forward to our new school year, getting to know the children more and working with new families.
In September we will focus on settling the children into school life and will be finding out all about them with the topic 'All About Me'.
Here are pictures drawn by our new reception children 2018: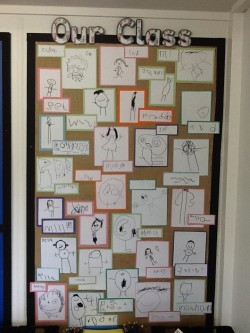 Click the link below to view information about our Early Years
Click here to view the power point used during the 'Early Years Reading Workshop' in October 2017.