Mrs Murray and Mrs Franklin
My name is Mrs Murray and I teach Reception on Monday, Tuesday and Wednesday. I am the EYFS Leader.
My name is Mrs Franklin and I teach Reception on a Thursday and Friday.  I am on the Ethos Team and I lead the Early Years and Year 1 Collective Worship sessions.
We teach reception children and working alongside us every day is Miss Quibell who is a teaching assistant and trained First Aider.
We like starting our day with Wake up and Shake Up, which is an opportunity to get some exercise and have some fun!
We are looking forward to getting to know the new reception class and working with new families.
We had a visit from author Steve Anthony, he shared some of his books and taught the children how to draw Mr Panda!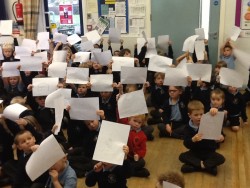 Click here to view the power point used during the 'Early Years Reading Workshop' in October 2017.