Mrs Franklin
My name is Mrs Franklin and I teach Reception Class.  I am on the Ethos Team and I lead the Early Years and Year 1 Collective Worship sessions.
I teach reception children and working alongside us are Miss Quibell, Mrs Ashworth and Mrs Norbury who are our teaching assistant team.
We like starting our day with Wake up and Shake Up, which is an opportunity to get some exercise and have some fun!
We have all settled in so well to our class routines and we love having a go at our daily challenges.
We have started this half term with the exciting arrival of 8 eggs in an incubator which have now all hatched into lovely fluffy chicks! This has been a major part of our 'Are Eggs Alive?' topic.
We are looking forward to our new topic 'Which was The Biggest Dinosaur?' The children will learn lots of facts and will explore which dinosaurs were carnivores, herbivores and omnivores.
Here are our super daffodil pictures drawn by the reception children using the computer paint programme: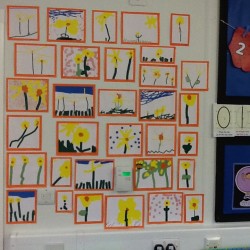 Click the link below to view information about our Early Years