Mrs Millington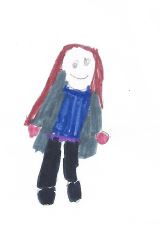 My name is Mrs Millington and I teach Year 1. Working alongside me is Mrs Eadie who is a teaching assistant with a love for music.
Summer Term 2019
After the restful Easter holidays, we will be starting our brand new topic 'The Enchanted Woodland' where we will be learning all about plants and trees in our local area. We will be spending lots of time in the wooded area on the field and even having a tea party with the fairies! This learning will be cemented by our trip to Delamere Forest later in the term. We will continue to look at seasonal changes and weather as Spring turns into Summer. The sunshine will help us to grow our own plants! We will continue to study our local area in Geography as well as further our understanding of local history, focusing on George Mallory. In Art we will be looking at Andy Goldsworthy and how we uses natural resources to create sculptures. In Design Technology we will be looking at healthy eating and creating our own recipes – maybe even using some of the plants we have grown. In Maths the children will be introduced to multiplication and division, fractions, position and direction as well as time and money. In English we will be looking at stories from other cultures with books such as 'Handa's Surprise' and 'Bringing the Rain from Kapiti Plain'. In PE we will continue to enjoy outdoor sessions including athletics and Sports Day training. It's going to be an exciting final term in Year 1!
Please click here for our Summer Term overview.
Our trip to Delamere Forest
We loved our trip to Delamere Forest! We started by talking about what trees need to grow. Then we played a game where we had to be acorns gathering sunlight, air, water and soil. We had to run very fast! Next we went into the woods and had to build a deciduous or evergreen tree out of natural objects. After lunch we were using our different senses. We looked at plants through viewfinders and exploring the trees through mirrors. We had to collect objects with different sensations – spiky, soft, smooth, hard, damp. Our final challenge was to blindfold a friend, lead them to a tree to feel, take them away and remove their blindfold.  They had to see if they could find the same tree again by feeling the trunks and branches.
Nature sculptures
We have been inspired by Andy Goldsworthy's use of natural materials to create artistic sculptures. We have used clay to create nature models and natural materials to make patterns in our school grounds.
Growing Beans
Each child was given a bean seed and challenged to see how tall they could grow it! The tallest was over a metre high.
Plants
We are really in the swing of our plant topic now! We've all planted runner beans and are competing to see who can grow theirs the tallest! We've been on a wild plant hunt around the school grounds – we found lots of daisies, dandelions, buttercups, nettles and ivy. We have used clay to make models of things that we have found in nature. Today we used magnifying glasses to identify all the parts of a plant.
Spring Term 2019
After the children arrived back from the Christmas holidays we dived right in to our new topic 'Paws, Claws and Whiskers'. We looked at different animals, including humans and their body parts. We linked these to their senses and then put them into categories. Part way through our topic we enjoyed a whole school trip to Chester Zoo where we focused on African animals and conservation. This topic linked us to our global work, thinking about the Sustainable Development Goals. We explored 'Life Below Water', 'Life on Land' and 'Responsible Consumption and Production' where we looked at plastics in the ocean, sustainable palm oil and recycling. We further explored these issues in PSHE and P4C lessons as well as talking about our goals for the year. In English we wrote information texts about animals as well as writing a recount about our school trip. In Maths we embeded our learning about place value, as well as exploring different units of measurement. In Design and Technology we made our own moving picture books based on traditional fairy tales. We continued to enjoy French, music and PE lessons on a Thursday as well as learning how to play golf on a Tuesday!
World Book Day
This year's theme was get cosy and get reading! Year 1 loved spending the day in their pyjamas and sharing their favourite book!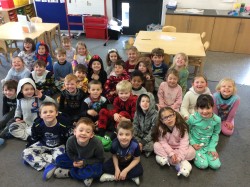 Whole school trip to Chester Zoo
On Friday 25th January, 192 children plus a multitude of staff and parent helpers visited Chester Zoo as part of our work on the Sustainable Development Goals, Life below Water and Life on Land. We explored sustainability and conservation as well as looking at animals and their habitats. Year 1 managed to visit many animals including cheetahs, lions, flamingos, penguins, giraffes, chimpanzees, orangutans, tigers and elephants. They were tired out after walking 12000 steps!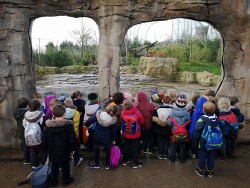 Check out all the exciting things we have done in Year 1 so far!
Our first half term in Year 1
During our first half-term our topic was 'Memory Box' where we looked at changes within living memory. We investigated how toys changed over time and enjoyed listening to the memories of our parents and grandparents. In Science we looked at Seasonal Changes by spotting signs of Autumn in our local area. In Art we drew portraits in the style of Pablo Picasso,  Paul Klee and Andy Warhol. In RE we celebrated Harvest, as well as the Jewish festival of Sukkot. We made some delicious honey snap biscuits! In outdoor and indoor PE, we practised our ball skills as well as our balancing skills. We started to learn French for the first time, learning greetings and moving on to colours and numbers. In English we read books such as 'The Tin Forest', 'My mum is Fantastic' and 'Peace at Last'. In Maths we got to grips with basic number work, using part-whole models to help our understanding. We continued with our work on Global learning, celebrating key dates such as the 'Day of Democracy' and the 'Day for the Eradication of Poverty' as well as starting to explore the Sustainable Development Goals. We enjoyed a visit from a local ranger who helped us to understand recycling and give us ideas how to re-use items that we would usually throw away.
Our second half term in Year 1
Our focus for the second half-term was 'Moon Zoom' where we will made and named the planets as well as exploring famous astronauts such as Tim Peake. In Science we looked at different materials and their properties before carrying out an experiment to see which material was best for an umbrella. As it started to turn colder we went on a Winter walk to spot any changes in the seasons. In Art we explored the work of L S Lowry and tried to recreate our own versions of his famous paintings. In RE we looked at the Christmas festival as well as preparing for our nativity! The children did such a fantastic job. In PSHE we continued to enjoy P4C lessons as well as engaging with Anti Bullying Week, 'World Philosophy Day' and 'Human Rights Day'. We learnt about why we celebrate Remembrance Day and painted our plastic poppies contributing to our weeping window display. In maths we continued to embed our learning on place value and addition as well as beginning to explore 2D and 3D shapes. In English we read and wrote instructions based on 'The Tiger who came to Tea' as well exploring different types of poetry. After all that we were definitely ready for our Christmas break!
25th September 2018
Today the children in Year 1 enjoyed learning about toys from the past. Thank you to all the mums, aunties, cousins, grandmas and friends who shared their special memories! Thank you also to those parents who sent in their childhood toys.
1st October 2018
Year 1 explored ways to help with the Sustainable Development Goal 'Responsible Consumption and Production'. A forest ranger joined the class for the morning and explained how our rubbish gets recycled. We learnt that plastic can be made into a fleece and cardboard gets turned into newspapers! We really enjoyed using rubbish that would usually be thrown away to make parachutes and beautiful butterflies.
16th October 2018
Today Year 1 learnt all about the Jewish festival of Sukkot. We made felt torahs and wrote messages from God inside. We worked in pairs to make sukkahs and then we made decorations to go inside such as 3D fruit and paper chains. We loved making Jewish honey biscuits with Mrs Eadie and we made Happy Sukkot cards for our buddies to tell them everything we have learnt!
23rd October 2018
Today the Pop Project came to visit! We loved singing and dancing to music whilst thinking globally. We sang songs about our community and ways to reduce, reuse and recycle! We can't wait until they visit again.
30th November 2018
We loved watching this year's Panto 'Cinderella'. We loved all the costumes and singing along to baby shark!
18th December 2018
Well, it took us a long, long time and lot's of hard teamwork but we finally completed making our own planets! First we had to paste 2 layers of paper mache and wait for them to dry, then we had to paint them. It was very messy – but fun! Finally we tried to write our own mnemonics to remember the order of the planets. Our favourite was – My very elegant mum just served us noodles!