Miss Whalley
My name is Miss Whalley and I teach Year Three at Mobberley. Our Cornerstones topic for Autumn 2 is I am Warrior!
Your home learning over half term to prepare for our topic was fantastic. I was so impressed!
I really enjoyed seeing what you had been up to and your friends in our class loved seeing all of your wonderful work too!
I am really excited about teaching Year 3 this year, and can't wait to start our new Imaginative Learning Project!
Have a look at our overview for this half term's topic…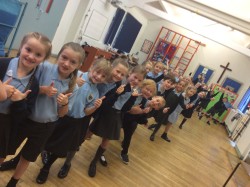 Below are some links to some Roman Recipes you might want to try at home!
---
Reading
In Year Three, we read in class every day and have some wonderful helpers that also come in to read with us!
When we hear children read in school alongside building their phonetic skills we also support their comprehension skills.
Although we do read lots at school, it's also important to read at home too! Below you will find a list of possible questions to help you with conversations about your child's reading.  Use them at your discretion and where they are appropriate to encourage your child's comprehension.
Happy Reading!
---
---
Here are some Maths games we have enjoyed playing in class:
---
Our Religious Education focus this term has been Judaism.
We used the Hebrew alphabet today to write our names in Hebrew (right to left!) and discussed the importance of certain symbols to the Jewish community, including the Torah.
---
---
 TREMORS
Uh Oh!
We entered our classroom this afternoon to find an earthquake! We acted as detectives to try to work out what had happened and discussed how we think things like this happen in other places in the world.
Then, we used our wonderful acting skills and taught each other the earthquake safety procedures before having a go ourselves with two of us acting as the earthquake!
---
We made our own seismometers today using paper cups to help us to measure earthquakes!
---
Today we focused on places around the world that have been struck by earthquakes and we were shocked to find that so many buildings are destroyed by the movements of the tectonic plates. We researched different architects and the ways in which they try to make buildings that can withstand a multitude of elements.
We used the ideas that we had gathered to design and create our own 'earthquake proof' buildings using marshmallows and toothpicks. We evaluated each other's structures and discussed why some were more stable than others.
---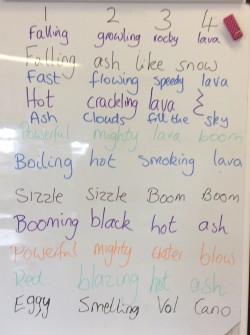 We wrote our very own song in music today based on erupting volcanoes! We'd l o v e to sing it to you at home!
---
We sorted real rocks into different types today based upon their physical features and what they feel like. Then, we wrote our very own song all about rock types to the tune of Twinkle Twinkle!
---
---
I AM WARRIOR
This half term we are learning all about the Romans, particularly the Roman soldiers and how they defeated the Celtic warriors and their tribes in order to invade England.
As the Roman empire begun over 2,700 years ago, we found that very hard to picture as we are all only 7 and 8! To help us to picture this, we used toilet roll to create a timeline; each sheet of toilet roll signified 10 YEARS.
Look how long our toilet roll timeline was!
---
---
Using shadow puppets that we so beautifully created at home, we explored shadows and discussed why they are formed and also explored opaque, transparent and translucent objects.
We experimented with our puppets and looked at ways in which we could change the size of the shadow, the shadow's orientation and also ways to get rid of the shadow!