Miss Whalley
Have a look at the video above- Olaf has something very important to say to you! He wrote this song at home and it reminded me of all of my lovely Year Threes. I hope you enjoy this song as much as I did!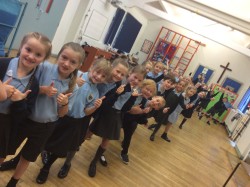 Home Learning
Talking to your child about why we are not in school.
Look at the links below for advice on discussing the current issues with young children.
https://www.bbc.co.uk/news/uk-51734855
https://youngminds.org.uk/blog/talking-to-your-child-about-coronavirus/
https://childmind.org/article/talking-to-kids-about-the-coronavirus/
Below, you will find an array of learning and activities for your children during this time. (Maths, English, History/Geography, Science, Wellbeing, Physical Activities).
Please ensure you have a good look at everything! There are lots of useful websites suggested too that you may want to access with your children.
Keeping in Touch
Keeping in touch – if you would like to write to me please send the letter to school addressed to me!
If you have an enquiry or even just a lovely update, my email address is hwhalley@mobberley.cheshire.sch.uk. I will always reply as quickly as I possibly can.
To keep up to date with each other and to share what we're all up to, we have our own class Instagram! The account is private and is just for parents/ close family members of the children in our class. Lots of your other teachers from school are also following to keep up to date with what you're all up to!
Find our page at @year3mobberley
Please keep me updated with all of the lovely things you are doing at home! You can either message through our class Instagram or through my email address. I've really loved seeing what you have been creating and doing during your first week of home learning; it's been wonderful to see all of the fun things you're up to.
 

Learning Challenges
This week I would like you to complete
1 PSHE

,

1 Art Task

and

1 Topic Task

as well as your Maths and English. Mrs Eadie and Madame Barker have also planned some lovely activities for you to explore.

IMPORTANT

This week, instead of our Science tasks (as we have completed all of our science units for the year!), I would like you to complete a PSHE task. It is in the same place as your usual Science task so just scroll down for it! I have kept some of the past science activities there too though so that if you would like to have a go and haven't managed to yet, you still can!
I have updated our Topic with an 'Extreme Weather' topic menu! It's a really fun topic and I hope you enjoy exploring it at home. You can still complete some of the Scrummdiddliumptious learning challenges too if you like.
Music Letter from Mrs Eadie
Mrs Eadie has written you all a letter full of ideas to keep you musical!
Message from Mrs Eadie 13th July
French Learning from Madame Barker
French Year 3 Home Learning 06.07.20
This Week's Tasks
5 Maths Learning Sessions – one per day.
Below, I have attached a weekly plan for this week's maths sessions. There's one session for every day. They are clearly labelled Monday, Tuesday, Wednesday, Thursday and Friday for you.
Resources for this week…
Resources for this week…
Identify properties and sort shapes (PowerPoint)
Vertical or Horizontal Powerpoint
5 English Learning Sessions- one per day.
The Lorax by Dr. Seuss.
We are going to be reading a bit of 'The Lorax' by Dr. Seuss! This week, all of the pages that you need to read are in a powerpoint for you. My 'The Lorax' book is on it's way and with my lovely postman, so when it is here with me I will read you some of it! I hope you enjoy this one Year Three, there are lots of important messages in this story.
P.S. It's also a film, so you might want to have a little watch of that too if you haven't already!
I have attached your learning tasks for each day in the document below. They are clearly labelled Monday, Tuesday, Wednesday, Thursday and Friday for you.
Enjoy!
Resources for this week…
Resources for this week…
Persuasive Writing in Advertisements Powerpoint
Resources for this week…
Resources for this week…
Scroll down a little for the Year Three and Four Statutory Spelling List!

Here are the Statutory Year Three and Four Spellings. We don't need to know them all until the end of Year Four but it really helps if we're confident with many/most of them now. Have a practice of them for the next few weeks to build your confidence!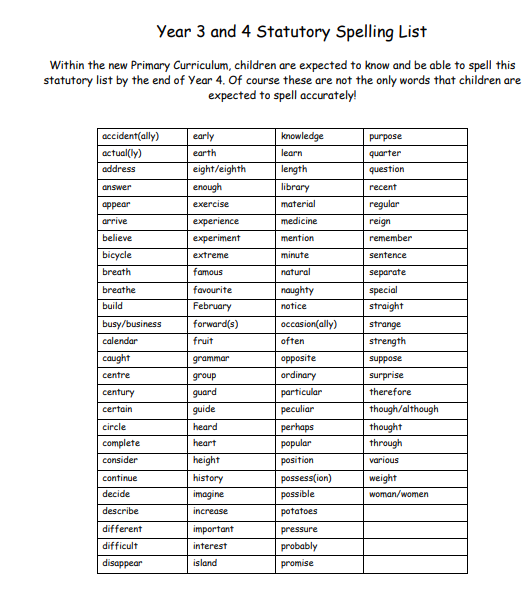 I have attached the spellings for this term below; please have a look at them! You may want to learn them and test them if you like but you don't have to! Just make sure you're looking at them a little each week. 
One PSHE Learning Session.
This week, I would like you to use the document below to create some 'snapshots' of your favourite moment in Year Three.
This week, I would like you to write a letter to Mrs Anderton all about yourself. You now know that she is going to be your teacher next year and she would love to hear from you! I will pass your letters on to Mrs Anderton if you email a photo of them to me!
Things to include in your letter…
Your favourite things to do
Your favourite lessons
Something you think you are really good at (this could be something like gymnastics, dancing, football, rugby or a lesson at school like Maths/English)
Something you find a little bit tricky and like to have some help with
Something you are looking forward to in Year Four!
Something you might be feeling a little nervous about
Your name!
Th
is Week's Challenge: 
This week's science experiment/exploration links to our new reading, 'The Lorax'. The Lorax is all about looking after our environment and being sustainable.
This week, I would like you to have a go at creating your own recycled paper! You will need an adult to help you with this one.
Whilst you are exploring this, use your skills for scientific enquiry; what changes do you notice throughout the process? Compare the paper 'before' and 'after'- what is different? What is the texture of the paper like? When did you notice the most significant changes in the paper? You don't have to answer all of these questions, just think about them as you explore this challenge.

Here's an optional experiment this week that links to our topic…
Shaving Foam Raincloud <- instructions.
Here's a (super quick!) video for you to watch it if you fancy… raincloud
Tornado in a Bottle Resources Needed:
Water
A clear plastic bottle with a cap (that won't leak)
Glitter
Dish washing liquid
Tornado in a Glass Resources Needed:
water
liquid dish soap
a tall glass or jar (lid is good but optional)
a stirrer (if there is no lid, you can use pencil, chopstick, straw or an actual stirrer to stir)
One Topic Session.
Wahoo! We have a new topic! Click on the topic menu below to learn all about 'Extreme Weather'! If you have other activities that you'd like to do that links with our topic (but isn't on the menu) please go ahead and do them!
I can't wait to see all of your wonderful topic work! 
Choose from the Extreme Weather Topic Menu- you can choose whichever you like! If you would like to choose more than one topic task in the week then you can!  The Scrumdiddliumptious menu is further down the page if you would like to choose one of these too!
One Art/ D.T Session.
I have left last week's art challenge here for you to have a go at as I know it might be something some of you fancy doing over the coming weeks if you get time!
This week, watch the video below and see if you can follow along with the tutorial to draw the Lorax! It's a really fun tutorial and you'll be so proud of what you can achieve!
First, watch this video of the story 'It's Not a Box!': It's NOT a Box!
Now have a go at creating your own artwork based on this story! Using the activity below, turn the square into something that is NOT a box! Be as creative as you possibly can!
There are currently many illustrators experimenting with shadows to create artwork
Watch this video and have a go at creating your own shadow illustrations:
https://www.youtube.com/watch?v=NInkH0ukCOI
Below are some examples of some shadow illustrations- can you have a go?! Be as creative as possible and enjoy! This one's quite fun.
Have a go at creating drawings using objects from around your house! It's really fun and you can get really creative with this one.
Have a go at recreating some famous paintings/ pieces of artwork through photography. You can use the camera on your phone or iPad to do this; how creative can you be?! Your family might even be able to get involved in this one!
You don't have to be in the picture either if you're feeling shy! You could use toys, Lego figures or household objects to help you!
Click here to see some examples and some paintings to inspire you… 
Last Week's Art (if you fancy it!)
For art this week, I would like you to have a go at creating your own paintbrushes to use! Have a go at using them for a painting- what does your painting look like? If you have a go at this, please send me some pictures of your brilliant paintbrushes and also your artwork!
Another art activity for this week:
Draw along with Rob! Click the link below and Draw along with Rob this week! He has some wonderful tutorials- I particularly like the Sausage Dog one!
For your art this week, I would like you to have a go at drawing just like Quentin Blake, the illustrator of many of Roald Dahl's books including Charlie and the Chocolate Factory! Watch the video below and draw along with Quentin Blake as he teaches you how to draw Willy Wonka!
---
If you have more things to do/ would like to do more of the topic menu, please do.
Please make sure you read to somebody at least once a day!
Don't forget to email me any work you are proud of!
---
---
---
Anything below this line is just to support your home learning.
Please do not feel that you have to do EVERYTHING here as there is lots! It's just to support you and to give you some help if you are stuck for ideas after you have completed your weekly tasks. There are also some links to follow for some games; these are also not compulsory! Just if you have the time!
The tasks I have set for the week are at the TOP of the page (above the line!).
Virtual Tour
Click on the link below to open a document full of virtual tours and trips. There are art galleries, football stadiums, aquariums, landmarks an MANY more. Can you go on a virtual trip and write a review of what you saw/ experienced? Maybe you could create a factfile about somewhere you 'visit'!
Easter Bingo
How many of the activities can you tick off on our 'Easter Bingo'?
Life Skills
Why not use this time to learn some fantastic life skills?! Some will need adult supervision.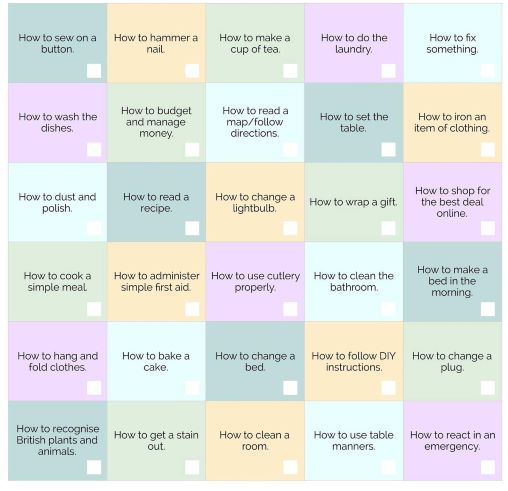 Twinkl
All of our parents can now access Twinkl which has lots of resources, ideas, advice and support for home learning.
Go to www.twinkl.co.uk/offer
Create an account using offer code UKTWINKLHELPS
You should then be able to access everything, including some home learning packs for each year group at www.twinkl.co.uk/search?term=school+closure!
Maths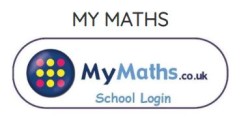 The school has subscribed to MyMaths, an interactive Maths website for teaching, learning, revising and enjoying mathematics. Usernames and passwords have been given to pupils in years 1 – 6 and sent home to parents in a letter.
How do I find the homework my child has been set? When you go to the MyMaths homepage you will need to log in using your child's new school username and password. You will then see some more boxes labelled 'My Portal' where you can put in your child's username and password. In here you should see your child's homework on the first screen you come to. If you can't see it, then make sure you are on your homework page by clicking the 'My Homework' tab on the left hand side of the page.
Please use MyMaths every day during the week. I will be setting lessons and work for you to access and complete.
Your usernames and passwords will be with you very soon.
Follow this link to access mymaths.
Times Table Rockstars
We use Times Table Rockstars at school to practice our Times Tables. Please try to use this at least every other day to embed the Times Table knowledge that your children need.
I will be continuously changing the set tables for your children. Follow the link below to login on a computer, however TT Rockstars can also be used through the app on a smart phone or tablet.
Very Useful Websites
Gareth Metcalfe Live Maths Daily Lessons – live lessons and resources for KS2 children and ideas for activities and games for younger children for maths.
Maths Made Easy – Interactive and downloadable resources for Years 1 – 6.
STEM Maths – Be A Mathematician – lots of Maths games and challenges to download for ages 5-14.
Here are some Maths games we have enjoyed playing in class:
English
Here is the link for Kung Fu Punctuation…
Your English tasks for the week are clearly outlined in the Word document in the 'learning challenges' section. These are set for each day of the week.
If you have the time, and would like to do some extra writing, visit Pobble 365 and describe the daily picture. There should be a little arrow in the middle at the bottom of each picture; if you click it there will be some ideas to help you.
When you are writing…
Always Remember!
Capital Letters
Full Stops
Finger Spaces
Things to Consider…
Descriptive noun phrases
Similes
Powerful adjectives, verbs and adverbs
Paragraphs
Different sentence types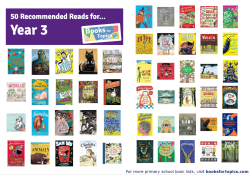 Here is a list of suggested reads for children in Year Three…
Please choose 2 spellings from the list below to practice each day.
There is also a very extensive list of ways to practice these spellings; try to choose a different way to practice them each day.
Year 3 and 4 Statutory Spelling List
Spelling Frame Games (online)
Spelling Shed (lots of spelling activities, games and interactive resources)
Useful English Websites
Lalilo (Phonics and Comprehension Practice)
Lalilo requires a subscription, however is currently free for all parents and teachers. Please sign up if you'd like your child to practice their sounds at home.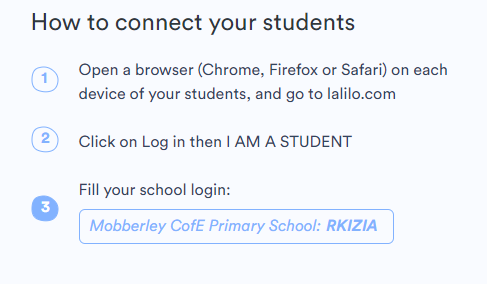 Reading activities and e-books.
Reading
Please ensure that you are continuing to read with your child every day- it can be a magazine, a website, a book or a newspaper. Don't forget to write in your reading diaries!
 Topic (Ancient Greece/ Scrumdiddliumptious)
Below is a History Topic Menu for our Ancient Greek topic.
Choose one choice from the menu below per History task that you do at home.
How many points can you earn?!
Try to do your very best with each task that you choose.
Our next topic will be Scrumdiddliumptious!
Have a look at the Topic Menu below and choose one choice for each task you do for our next topic. As always, try to do your best, beautiful work.
Scrumdiddliumptious Topic Menu
French
Madame Barker has planned some lovely french activities for you! Click below to have a look.
French Year 2 & 3 Home Learning
Science
Science websites
BBC Learning – http://www.bbc.co.uk/learning/coursesearch/
Mystery Science – https://mysteryscience.com – Free science lessons
STEM- https://www.stem.org.uk/resources/curated-collections/primary-0
Met office- https://www.metoffice.gov.uk/weather/learn-about/met-office-for-schools
Weather experiments- https://www.metoffice.gov.uk/weather/learn-about/met-office-for-schools/other-content/other-resources/experiments/index
Stay Active!
PE Passport provides lots of really lovely videos to stay active with challenges that you can easily do at home!
Super Movers is a really fun website to use for actively learning. This is also where our Times Table songs that we dance to in class are!('hey ho, the three times table etc.)
Joe Wicks has lots of great fitness videos ('5 minute move') for children. They are really fun and get you up on your feet!
If you want to have a little relax, try some yoga. Cosmic Kids have some lovely yoga videos for you to join in with and some follow the theme of a story (Harry Potter etc.)
Wellbeing and Activities
If you are just wanting to find some lovely things to do at home that you never usually get the time for, click here for 100+ ideas of things to do indoors with children.
14 Day Wellbeing Challenge
Click on the link below to have a look at the '14 Day Wellbeing Challenge'.
 The activities will help your children's wellbeing at this difficult time and hopefully help to keep them occupied in a proactive and beneficial way.
Here is a list of lovely 'non-screen' activities you can do at home…
How many different words can you make from the letters in this sentence, below? Grab a pencil and paper and write a list!
'Learning from home is fun'
Thank a community hero. Think of someone that helps you in some way and write a short letter to thank them.
Get building! You could build a Lego model, a tower of playing cards or something else!
Can you create your own secret code? You could use letters, numbers, pictures or something else! Can you get someone else to try and crack it?
Start a nature diary. Look out of the window each day and keep note
of what you see. Birds, flowers, changes in the weather, what else?
Hold a photo session. Use a camera or a mobile phone to take some snaps. What will you photograph? Your pets or toys perhaps?
Build a reading den. Find somewhere cosy, snuggle up and read your favourite book!
Use an old sock to create a puppet. Can you put on a puppet show for someone?
Make a list of all the electrical items in each room of your home. Can you come up with any ideas to use less electricity?
Design and make a homemade board game and play it with your family.
Do something kind for someone. Can you pay them a compliment, make them something or help them with a task?
Can you create a story bag? Find a bag and collect items to go in it that relate to a well known story. If you can't find an item, you could draw a picture to include.
List making! Write a list of things that make you happy, things you're grateful for or things you are good at.
Design and make an obstacle course at home or in the garden. How fast can you complete it?
Can you invent something new? Perhaps a gadget or something to help people? Draw a picture or write a description.
Keep moving! Make up a dance routine to your favourite song.
Write a play script. Can you act it out to other people?
Read out loud to someone. Remember to read with expression.
Write a song or rap about your favourite subject.
Get sketching! Find a photograph or picture of a person, place or object and sketch it.
Junk modelling! Collect and recycle materials such as yoghurt pots, toilet rolls and boxes and see what you can create with them.
Draw a map of your local area and highlight interesting landmarks.
Write a postcard to your teacher. Can you tell them what you like most about their class?
Draw a view. Look out of your window and draw what you see.
Get reading! What would you most like to learn about? Can you find out more about it in books? Perhaps you can find a new hobby?
---
Reading
In Year Three, we read in class every day and have some wonderful helpers that also come in to read with us!
When we hear children read in school alongside building their phonetic skills we also support their comprehension skills.
Although we do read lots at school, it's also important to read at home too! Below you will find a list of possible questions to help you with conversations about your child's reading.  Use them at your discretion and where they are appropriate to encourage your child's comprehension.
Happy Reading!
---
---
---
Our Religious Education focus this term has been Judaism.
We used the Hebrew alphabet today to write our names in Hebrew (right to left!) and discussed the importance of certain symbols to the Jewish community, including the Torah.
---
---
 TREMORS
Uh Oh!
We entered our classroom this afternoon to find an earthquake! We acted as detectives to try to work out what had happened and discussed how we think things like this happen in other places in the world.
Then, we used our wonderful acting skills and taught each other the earthquake safety procedures before having a go ourselves with two of us acting as the earthquake!
---
We made our own seismometers today using paper cups to help us to measure earthquakes!
---
Today we focused on places around the world that have been struck by earthquakes and we were shocked to find that so many buildings are destroyed by the movements of the tectonic plates. We researched different architects and the ways in which they try to make buildings that can withstand a multitude of elements.
We used the ideas that we had gathered to design and create our own 'earthquake proof' buildings using marshmallows and toothpicks. We evaluated each other's structures and discussed why some were more stable than others.
---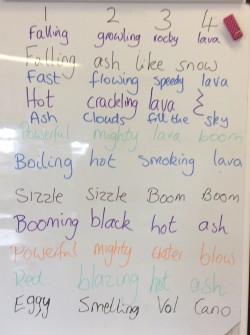 We wrote our very own song in music today based on erupting volcanoes! We'd l o v e to sing it to you at home!
---
We sorted real rocks into different types today based upon their physical features and what they feel like. Then, we wrote our very own song all about rock types to the tune of Twinkle Twinkle!
---
---
I AM WARRIOR
This half term we are learning all about the Romans, particularly the Roman soldiers and how they defeated the Celtic warriors and their tribes in order to invade England.
As the Roman empire begun over 2,700 years ago, we found that very hard to picture as we are all only 7 and 8! To help us to picture this, we used toilet roll to create a timeline; each sheet of toilet roll signified 10 YEARS.
Look how long our toilet roll timeline was!
Below are some links to some Roman Recipes you might want to try at home!
---
---
Using shadow puppets that we so beautifully created at home, we explored shadows and discussed why they are formed and also explored opaque, transparent and translucent objects.
We experimented with our puppets and looked at ways in which we could change the size of the shadow, the shadow's orientation and also ways to get rid of the shadow!