Miss Rainbow
Welcome to Year 6!
My name is Miss Rainbow and I am the year 6 teacher and Science lead at Mobberley Primary School.
Year 6 Greet the Teacher video: https://youtu.be/kejDm7UB62g
Year 6 Autumn overview: YEAR 6 autumn overview
Year 6 timetable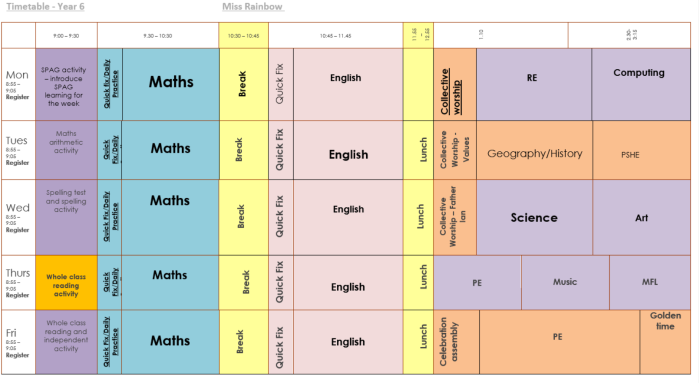 Autumn Term 1
English
Book focus: The arrival
This term we will be reading the book, 'The Arrival' by Shaun Tan. Children will be writing setting and character descriptions. They will also use this book as inspiration to write a persuasive letter.
Maths
This unit will cover numbers to 10 million, negative numbers and rounding numbers.
Number: Addition, subtraction, multiplication and division
This unit will cover: adding and subtracting numbers with more than 4 digits; multiplying a 4 digit by a 2 digit number; short division; long division; factors, multiples and primes to 100; square and cube numbers; and order of operations.
Computing
Areas of focus: Technology in our lives – Online safety
During this topic children will learn how to manage their online content in a safe and secure way.
Geography
Topic question: Why are there so many rainforests in South America?
Students will be learning about the diverse continent of South America and the importance of protecting the rainforests. During this topic they will be answering the following key questions:
Where is South America and how does its position in the world affect its climate?
What is a biome and can you explain why most of the world's rainforests are in the tropics/near the equator?
What are the physical geography differences between a country in South America and the UK?
What are the different vegetation belts found in a rainforest?
What are the main trade links between the UK and South America? How do the imports and exports of the UK differ to those in South American countries?
What are the reasons for and against cutting down the rainforest?
Science
Focus: Animals and their habitats
Students will be learning about the Linnaeus system used to classify animals. During this topic they will answer the following questions:
Why do animals need to be catergorised into broad groups?
Who is Carolus Linnaeus and what is his classification system?
What are microorganisms and how can they be classified into groups?
Which animal groups will you in your local habitat?
Which animal groups will you find in a South American habitat? (link to Geography work)
Art
Focus: Art and design skills
This art unit will cover the following techniques:
Why is a sketchbook a necessary tool for an artist?
How can you mix colours to create impressionist art?
What are zentangle patterns and how can they be used in art?
How can you use printing to create a pattern?
What features can you discuss when analysing a piece of art?
PSHE
Focus: Think positive
This unit will cover the following topics:
How to deal with negative emotions and feelings
Strategies to respond to feelings
How their actions can affect other people
How to have a positive mindset
Mindfulness techniques that can be used to manage intense emotions
Homework links
Maths Homework will be set using MyMaths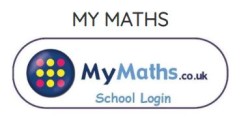 The school has subscribed to MyMaths, an interactive Maths website for teaching, learning, revising and enjoying mathematics. Usernames and passwords have been given to pupils in years 1 – 6 and sent home to parents in a letter.
How do I find the homework my child has been set? When you go to the MyMaths homepage you will need to log in using your child's new school username and password. You will then see some more boxes labelled 'My Portal' where you can put in your child's username and password. In here you should see your child's homework on the first screen you come to. If you can't see it, then make sure you are on your homework page by clicking the 'My Homework' tab on the left hand side of the page.
Any further questions or queries please speak to your child's class teacher
English homework
Read Theory – Reading comprehension activities
---
5 Day Act Fast Challenge First Aid (Are you ready to complete  the 5-day First Aid Challenge?) – Each day you will learn new first aid skills. There is also a daily challenge to complete in your own time. Find the booklet here. (click on the days below to link to the videos on YouTube).
Day 1 Signs of life Calling 999 What3Words Challenge Day 2 Looking after your casualty ABC Challenge Day 3 Safe Airway Position Video Challenge Day 4 CPR Defibrillator Challenge Day 5 First aid for bleeding Bandaging Challenge
Each day you will learn new first aid skills. There is also a daily challenge to complete in your own time.  All videos can be found on the Act Fast First Aid You Tube Channel