History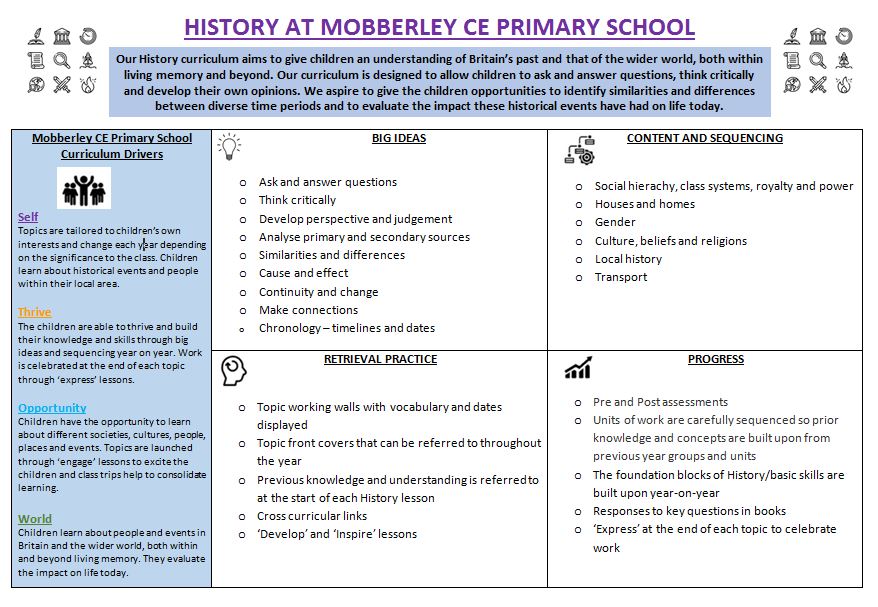 History at Mobberley CE Primary School
We believe that all children deserve an education rich in wonder and memorable experience. One that allows children's natural creativity and curiosity to flourish, alongside the purposeful acquisition of skills and knowledge. We believe that an education that does all of this gives children the best chance to become well-rounded, happy individuals, ready to succeed in an ever-changing world.
Our History curriculum aims to give children an understanding of Britain's past and that of the wider world, both within living memory and beyond. Our curriculum is designed to allow children to ask and answer questions, think critically and develop their own opinions. We aspire to give the children opportunities to identify similarities and differences between diverse time periods and to evaluate the impact these historical events have had on life today.
History is taught through the 'Cornerstones Education' scheme of work which allows children to engage their curiosity and demonstrate their learning. History topics are based on children's interests and therefore change year on year. History topics can last anywhere from 6 to 16 weeks to ensure a good level of development in skills and understanding.
History topics follow four stages, starting with Engage and moving on to Develop and Innovate and ending with Express.
Engage
Hook learners in with a memorable experience.
Set the scene and provide the context for learning.
Ask questions to find out children's interests.
Spark children's curiosity using interesting starting points.
Develop
Teach facts and information for deeper understanding and knowledge.
Demonstrate new skills and allow time for consolidation. learning
Provide creative opportunities for making and doing.
Deliver reading, writing and talking across the curriculum.
Innovate
Provide imaginative scenarios that encourage creative thinking.
Enable children to apply previously learned skills.
Encourage enterprise and independent thinking.
Provide opportunities for collaborative working and problem solving.
Express
Provide environments for reflective talk.
Create opportunities for shared evaluation.
Celebrate and share children's success.
Identify next steps for learning.
Visual displays in classrooms provide opportunities to explore key vocabulary related to the History topic and showcase children's work. History topic homework is set to further home learning and allows parents to get involved with their children's work. Resources are provided by the Library Service, ensuring children have access to History-related books and artefacts. Cross-curricular activities are planned in to make connections with Maths, English, Science and Computing. Class trips give the children the opportunity to develop their learning outside the classroom. Visits from experts hook the children's interests and provide more information about their History topic in a fun and engaging way. Past visits have included Stone Age experiences, exploring toys from the past, dinosaur specialists, WW2 Evacuee days and residential trips to explore Beeston Castle.
Every year the children learn about their local history. Old log books from the school are explored to see what the school day was like, what children ate for their lunch and which lessons they received. Visitors are invited in to discuss their memories of the local area which allows the children to explore similarities and differences to life today. Historical events, like the Rose Queen, which still happen today, are celebrated and children learn about how the four school houses were established. The children enjoy learning, year on year, about Mobberley-born 'George Mallory' and his attempts to reach the summit of Mount Everest. This local link has allowed our school to make a connection with a school in Nepal, which has led to reciprocal teacher visits. The children at Mobberley enjoy writing letters and Skyping with the Nepalese children and discussing their shared history.
History topics are designed to progress children's knowledge and understanding of key concepts throughout each year. We have chosen a number 'Big Ideas' that children will explore every year as well as building on their content and sequencing.
BIG IDEAS
Ask and answer questions
Think critically
Develop perspective and judgement
Analyse primary and secondary sources
Similarities and differences
Cause and effect
Continuity and change
Make connections
Chronology – timelines and dates
CONTENT AND SEQUENCING
Social hierachy, class systems, royalty and power
Houses and homes
Gender
Culture, beliefs and religions
Local history
Past History topics have included:
EYFS Do Dragons Exist? Why do you love me so much?
Year 1 Dinosaur Planet, Memory Box, Bright Lights, Big City
Year 2 Land Ahoy, Towers, Tunnels and Turrets
Year 3 Gods and Mortals, Heroes and Villains, Tribal Tales
Year 4 1066, I am Warrior, Traders and Raiders
Year 5 Off with her head, Peasants, Princes and Pestilence, Pharoahs and Time Traveller
Year 6 A Child's War (WW2) and Mayans
Please click here to view our skills progression.