Maths
Here at Mobberley, we believe that our maths curriculum will  nurture a love for maths through a secure knowledge of key skills.  We aim to develop confident mathematicians at problem solving and reasoning, while exploring links to the world around us with cross curricular maths.  We aim to develop the children's problem solving, resilience and reflective skills – skills that are easily transferable across the curriculum.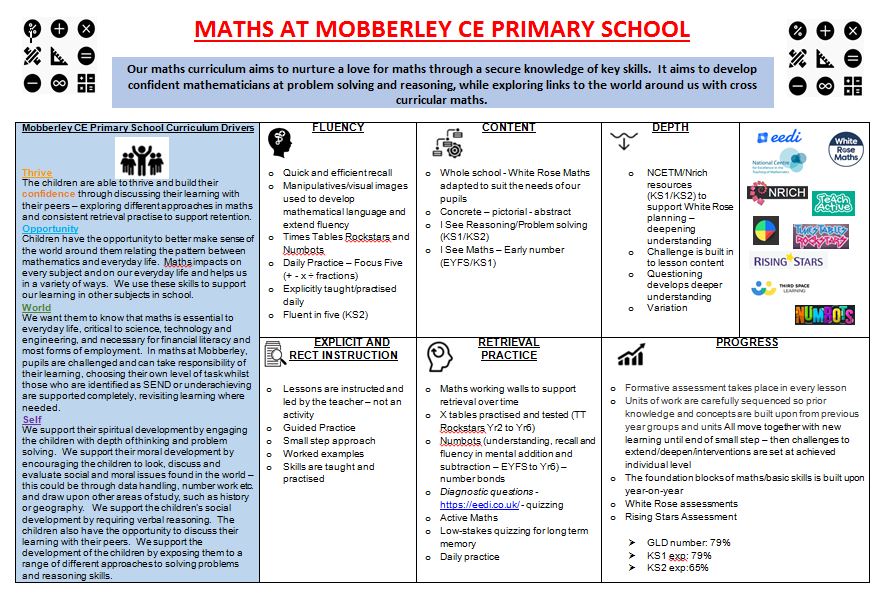 Mathematics teaches children how to make sense of the world around them through developing their ability to calculate, reason and solve problems.
Mathematics is essential to everyday life, critical to science, technology and engineering, and necessary for financial literacy and most forms of employment. A high-quality mathematics education therefore provides a foundation for understanding the world, the ability to reason mathematically, an appreciation of the beauty and power of mathematics, and a sense of enjoyment and curiosity about the subject.
We aim to support children to achieve economic well-being and equip them with a range of computational skills and the ability to solve problems in a variety of contexts.
At Mobberley, children are encouraged to make mistakes in a safe and supportive environment. They are supported to discuss these misconceptions with their peers and staff alike. Here at Mobberley, we place oracy at the heart of our learning through shared work and class discussions. Use of appropriate vocabulary is modelled throughout lessons by both staff and children, allowing everyone to 'talk like a mathematician'. Once a child can articulate their understanding of a concept, they can truly begin to make connections within their learning
Aims
The national curriculum for mathematics aims to ensure that all pupils:
Become fluent in the fundamentals of mathematics, including the varied and regular practice of increasingly complex problems over time.
Reason mathematically by following a line of enquiry, understanding relationships and generalisations, and developing an argument, justification or proof using mathematical language.
Can solve problems by applying their mathematics to a variety of problems with increasing sophistication, including breaking down problems into a series of simpler steps and persevering in seeking solutions.
White Rose Maths
As a school, we have decided to follow White Rose Maths. The White Rose scheme of learning is designed to support a mastery approach to teaching and learning, as well as to support the aims and objectives of the National Curriculum. The White Rose scheme has number at its heart and a lot of time is spent reinforcing number to build competency. It also provides opportunities to build reasoning and problem-solving into each lesson. White Rose believes that all children, who are introduced to a concept, should have the opportunity to build on their abilities by following a concrete-pictorial-abstract approach.
Concrete – Children should have the opportunity to use mathematical  objects to help them envisage what written numbers represent.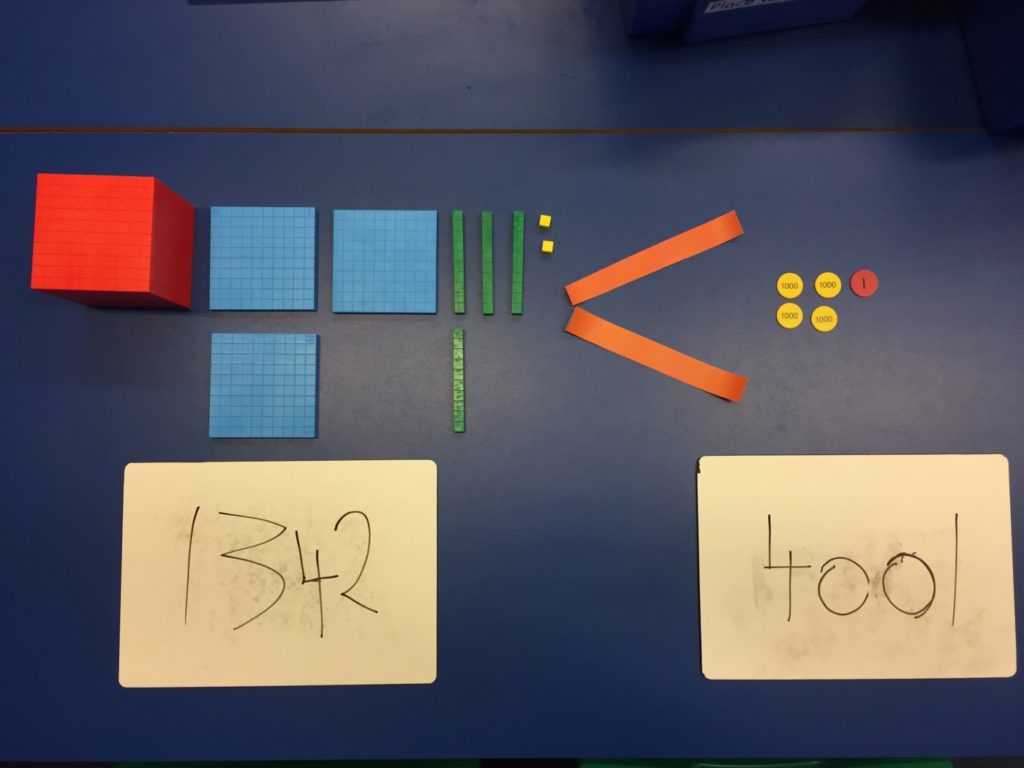 Pictorial – Children should have the opportunity to use pictures as representations to continue to support them in visualising what written numbers represent.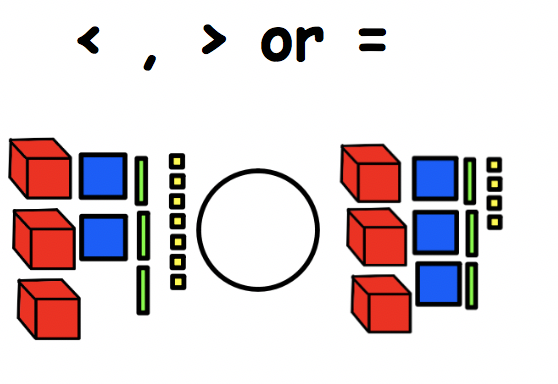 Abstract – Abstract learning is the use of digits and words to represent numbers.

Please follow the links below to find specific blocks from each term.
Calculation Policy
Our school calculation policy shows how abstract learning builds upon a good foundation of concrete and pictorial methods.
Mobberley CE Primary School CALCULATION POLICY 
TIMES TABLES AND NUMBER SKILLS AT MOBBERLEY
To supplement our learning here at Mobberley, children have access to various learning platforms including Times Table Rock Stars and NumBots.
By Year 4, children should be able to recall their multiplication facts up to 12 x 12. To help them develop these skills, children can log on to TTRS using their username and password.
On Times Table Rockstars, pupils can practice their tables. They are then able to improve their Rock Speed and climb the Rockstar ranks! The online games reward children with virtual coins for each correct answer, which they enjoy spending on upgrading their personal rock avatar.
NumBots is an online game and playing little and often will significantly improve your child's recall and understanding of number bonds and addition and subtraction facts. Children can access NumBots using their username and password for TTRS.
Children access these both at home and in school.
IF YOUR CHILD HAS FORGOTTEN THEIR LOGIN DETAILS. PLEASE SPEAK TO THEIR CLASS TEACHER WHO CAN REMIND THEM!
TTRS PARENT INFO (CLICK HERE)
Active Maths

(formally Maths of the Day) 
At Mobberley, we celebrate the  benefits of active learning in the classroom through our use of Active Maths in our classrooms.  The benefits are widely acknowledged in a variety of areas of the curriculum. Not only does it allow core curriculum subjects such as maths to be taught in a fun and engaging way, but also increases physical activity in children.
MATHS GAMES
More games for children to access here at Math playground. Problem solving, reasoning, arithmetic as well as shape, space and measure games can be found here.
A selection of free games for all abilities to test their times table knowledge.