Mrs Whalley
As some of you may be continuing to isolate at home once the rest of the class return to school on the 11th May, there are lesson resources and a timetable below for you to follow.  If you need any help with anything please contact me on my school email and I will reply as soon as I can.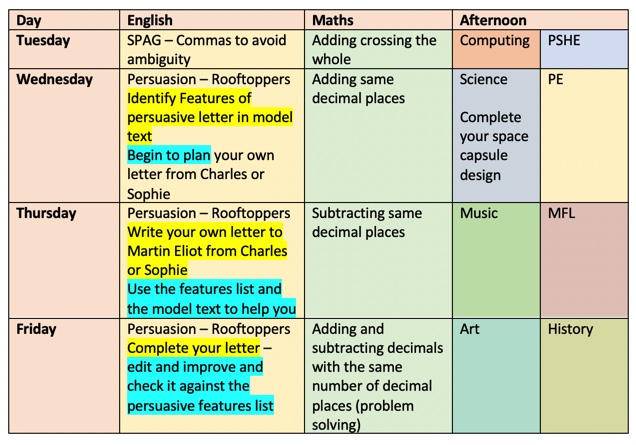 THURSDAY 13/5/21
English: Thursday Teaching Powerpoint
Maths – Subtracting Same Decimal Places
MFL
MUSIC
—————————————————————————————————————————–
WEDNESDAY 12/5/21 RESOURCES
English: Wednesday Teaching PowerPoint
Wednesday Task 1 Letter from Martin Eliot
Wednesday Task 1 Persuasive Features
Maths – Adding Same Decimal Places
SCIENCE
air resistance Task to complete
Continue with Designing/Making your Space Capsule which has large air resistance
Recap Monday's Air Resistance PowerPoint – air resistance facts and space capsule instructions
PE
Watch the video about RULES of ROUNDERS:
https://www.youtube.com/watch?v=f5Lxiy9_L9Q&feature=youtu.be
After watching the video, design a ROUNDERS RULES poster to be displayed in class
——————————————————————————————————————————————
TUESDAY 11/5/21 RESOURCES
English SPAG: Lesson Teaching Powerpoint Commas to avoid ambiguity
SPAG link – How to use commas in sentences – BBC Bitesize
Maths – Adding Crossing the whole
Tuesday Maths Teaching Powerpoint
COMPUTING
League Table Home Learning Task
PSHE
PP When I Coloured in the World
—————————————————————————————————————————————
MONDAY 10/5/21 RESOURCES
English: Monday Shared Reading PPT
Monday Vocab definitions blank
Maths – Complements to 1
SCIENCE
Lesson Link: https://youtu.be/znmyPAS0ni0
Monday Air Resistance Lesson PPT
Air Resistance Capsule Design Sheet
——————————————————————————————
FRIDAY 7/5/21 RESOURCES
English: SPAG
Maths – Subtract decimals within 1
HISTORY – ANCIENT GREEKS
Lesson Link: https://youtu.be/aPKdZBpVkww
Teaching Powerpoint: Alexander the Great Year 5
——————————————————————————————————–
THURSDAY 6/5/21 RESOURCES
English: The Odyssey
Link to Cyclops Story for Summary: https://youtu.be/6pR4Zl4S39s 
Maths – Add decimals within 1
MUSIC
Year 5 Music Lesson 6th May 2021
MFL
MFL German Introducing Yourself
——————————————————————————————
WEDNESDAY 5/5/21 RESOURCES
English: BEGINS AT 9.15 TODAY
Zoom link for this lesson with Nick Sharratt will be sent by email
Maths – Equivalent Fractions, Decimals and Percentages
Play this game (match FDP): https://mathsframe.co.uk/en/resources/resource/120/match-fractions-decimals-and-percentages 
SCIENCE
Teaching Link: https://youtu.be/cuEjxtC3y_k
Labelling Forces Teaching Powerpoint
PE
Choose 1 of the activities:
2. Lesson instruction video: https://peplanning.org.uk/wp-admin/admin-ajax.php?action=xpand_download_action&att=3536&xdlnonce=0c4106972d
Lesson Cards: PE at home cards
—————————————————————————————-
TUESDAY 4/5/21 RESOURCES
English Shared Reading:
Retrieval and Inference questions
Maths – Understanding Percentages:
PSHE:
Lesson Healthy Eating Divided Plate Sorting PowerPoint & Video
Healthy Eating Divided Plate Sorting Activity
Healthy Eating Quiz PowerPoint
Extra Challenge: The Mystery of the Brilliant Breakfast Maths Mystery Game
COMPUTING:
——————————————————————————————————–
Welcome to Year 5
GREET THE TEACHER (please click this link to view year 5's greet the teacher)
I am Mrs Whalley and I teach Year 5 for four days of the week.  I am also Deputy Head, Key Stage 2 Lead, Maths Lead and share the RE lead.  
On Tuesdays, Mrs Barker will be teaching in Year 5.  She also teaches French and German to Years 1 to 6 on Thursdays. 
Our History for the Spring term is Ancient Egypt and our SCIENCE is Earth and Space. 
We are very glad to be back together and look forward to the term ahead.  
———————————————————————————————————
Year 5 Homework
(please email through completed English homework or bring into school – my email is kwhalley@mobberley.cheshire.sch.uk)
Practise your times-tables using Times-tables Rockstars
ENGLISH HOMEWORK: Instructions for English Homework
English Competition Letter Parents 070521
Spellings 
When you click on the spelling link below, you will notice that the format of spelling groups is a little different this term and this is to ensure that all children in the class are exposed to the year 5 spelling rules and statutory spelling words.
In our Year 5 spelling Lessons, we will be focusing on the Year 5 spelling rule for that week as a whole class.
All children

will learn challenge 1 words each week: these are based on commonly misspelt words in class.

All children

will learn the statutory spelling words each week – these will be the year 5/6 statutory words but we will be recapping the year 3/4 statutory words also.

Your child

will be asked to

either learn the challenge 2 or challenge 3 words for that week

.
(Each week there will be at least 12 spelling words to learn/at most 15 words)
Spellings: Year 5 spelling words Spring 2 and Summer 1
————————————————————————————————————————————-
Maths Homework will be set using MyMaths
MyMaths Homework (use your login to access your homework)/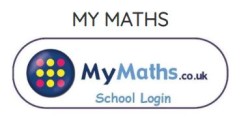 The school has subscribed to MyMaths, an interactive Maths website for teaching, learning, revising and enjoying mathematics. Usernames and passwords have been given to pupils in years 1 – 6 and sent home to parents in a letter.
How do I find the homework my child has been set? When you go to the MyMaths homepage you will need to log in using your child's new school username and password. You will then see some more boxes labelled 'My Portal' where you can put in your child's username and password. In here you should see your child's homework on the first screen you come to. If you can't see it, then make sure you are on your homework page by clicking the 'My Homework' tab on the left hand side of the page.