Science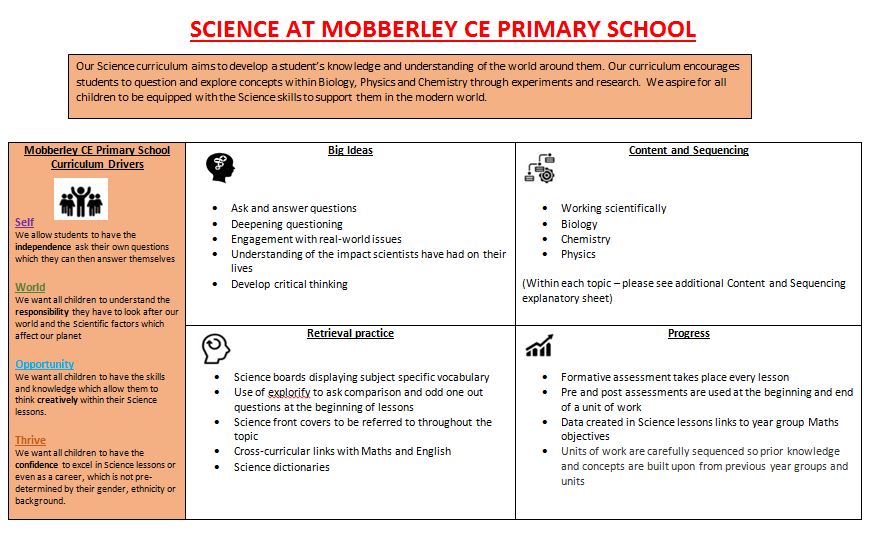 The national curriculum for science aims to ensure that all pupils: 
develop scientific knowledge and conceptual understanding through the specific disciplines of biology, chemistry and physics 
develop understanding of the nature, processes and methods of science through different types of science enquiries that help them to answer scientific questions about the world around them 
are equipped with the scientific knowledge required to understand the uses and implications of science, today and for the future.
Our Science curriculum aims to develop a student's knowledge and understanding of the world around them. Our curriculum encourages students to question and explore concepts within Biology, Physics and Chemistry through experiments and research.  We aspire for all children to be equipped with the Science skills to support them in the modern world.
Science in Mobberley is taught in discrete lessons allowing the students to fully engage in their Scientific learning. Within each topic, students are encouraged to explore scientific ideas through practical investigations. From kS1, children are involved in the planning of investigations. At KS2, this extends to students using investigations to ask and answer their own questions allowing them to take ownership of their learning.
Within each Science topic, teachers create links between the learning and scientists of the past and present. This allows students to reflect on the importance of scientific discoveries and the impact they have had own their own lives. This also aims to increase students aspirations within Science.
Students complete a pre and post assessment task for each of their topics and teachers use formative assessment throughout a topic to monitor the progress of each child. Key vocabulary is highlighted on displays in the classroom and on topic front covers. Each year group is also provided with a scientific dictionary. Any data handling work is linked to the Maths national curriculum creating a cross-curricular link between the two subjects.
Please click on the link below too see our progression chart for Science across the school
Science vocabulary progression
STEM Week – Week commencing 10th February 
This year, our whole school focus is on women in STEM